Life is Beautiful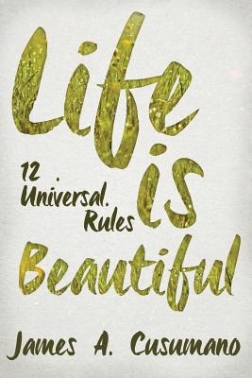 12 Universal Rules
Published by Waterside Productions
James A. Cusumano has led many lives. Drawing on his successes as an entertainer, scientist, corporate executive, and entrepreneur, Dr. Cusumano shares his multifaceted guide to life-long success and personal fulfillment. This easy-to-follow guidebook, Life Is Beautiful: 12 Universal Rules, demonstrates how anyone can manifest into their life literally anything that leads to their long-term happiness and helps create a better world.

Praise for Life Is Beautiful
"In Life Is Beautiful Jim Cusumano takes us on a practical journey of heart and spirit. With his scientific background coupled with his ability to illuminate the wisdom of the greatest spiritual traditions, Dr. Cusumano eloquently bridges the worlds of science and mysticism, bringing clarity to both. His stories of the amazing people he's known and the remarkable things he's done make for a thrilling read as well as a deep learning experience."
—Gay Hendricks, PhD, Best-selling author of The Big Leap and Conscious Loving Ever After
"Life is Beautiful is an essential sourcebook for humanity to manifest at our collective potential — spiritual, social and scientific. It has brought together with great clarity, wisdom of the ages, spiritual physics with cutting-edge quantum physics and the very latest understanding of Consciousness itself. It is a book of epic importance, vital for our culture now. I have reread it several times. It can illuminate all of our teachings and can serve us to manifest our highest purposes in life."
—Barbara Marx Hubbard, President, The Foundation For Conscious Evolution
"In Life is Beautiful, Jim Cusumano, in his typical style, beautifully balanced between the pragmatic and the spiritual, brings the most important questions in life into clear focus, and provides easily implementable ways to answer them— and live them. Read it and reap— your life will be beautiful."
—Lance Secretan, PhD, Author of ONE and Inspire; Former CEO of Manpower, Inc.
"In Life Is Beautiful, Jim Cusumano raises almost all the questions that matter—questions that matter for your life and the life of others around you, that matter for now in the context of what you do today and the next day, and of what you do with the rest of your life. The conclusions he reaches regard the nature and import of consciousness, and they closely parallel the conclusions I have myself reached in the span of the last several decades. They are phrased simply, and simply beautifully. I recommend this book to everyone who is interested in life's big questions, which are also the "little" but vital questions of everyday existence."
—Ervin Laszlo, PhD, Founder and President of The Club of Budapest, Director & Co-Founder of the Ervin Laszlo Institute for Advanced Study
"Jim Cusumano's book Life is Beautiful is wonderfully clear, life-affirming advice from a deeply experienced spiritually-grounded global business leader."
—Hazel Henderson, Author of Mapping the Global Transition to the Solar Age, President, Ethical Markets Media (USA & Brazil)
"Life is Beautiful is a transformational book that will allow you to inherit your connection to spirit . . . and to live a limitless life more powerfully, lovingly and with more happiness! Bravo!"
—Kathy Gardarian, CEO Qualis International, Inc.
"This incredible magnum opus Jim Cusumano has produced, Life is Beautiful: 12 Rules, could more accurately have been entitled Jim's All Inclusive Theory of Everything. This really is a capstone book coming on the heels of his two earlier books each of which served, in its way, as a stepping stone for what Jim brilliantly and humbly serves up here. This heartfelt reflection goes way beyond his earlier book on work-life balance to something that effectively weaves into a tapestry of his observations from being stunningly successful in business, entertainment, science, quantum physics and Vedic theory. Every single literate person on the planet would be well served to immerse themselves in Jim's poignantly deep, and deftly spun, articulation of how the Universe works, and how we can most effectively work with it to achieve everything we'd like to manifest. This is the first work I know of that so eloquently and powerfully describes the science and art behind all of this which he calls "Spiritual Physics." Go no further if you want to really understand who we are as individuals in the cosmos, how we interact with each other and the various planes of reality, and how all of that is a spiritual journey we can take with whatever degree of skill and joy that we choose. Life truly is beautiful precisely because he gives us the tools to choose for it to be so, and provides us with all the insights we require in a single volume to make it so. It has worked magnificently for Jim, and it will for you as well."
— Rinaldo S. Brutoco, Founding President and CEO World Business Academy
"This is a book that wakes you up! With discipline and grace, Dr. Cusumano brings the voice of maturity and wisdom to life's most important and most challenging questions. Seamlessly integrating science, spirituality and psychology, he provides the reader with an easy to understand, clearly languaged roadmap for the journey to our greatest potential and our most essential selves. Life is Beautiful's universal message around power of purpose touches the pulse of all our lives."
—David Surrenda, PhD, Founder and Dean, John F. Kennedy University, Graduate School of Holistic Studies; Co-author of, Retooling on the Run: Real Change for Leaders with No Time
paperback | 208 pages | 9781943625192 | January 30, 2016