The Dialogue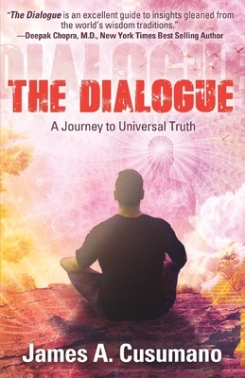 A Journey To Universal Truth
By James A. Cusumano
Published by Waterside Productions
The Dialogue is a fusion of fiction and nonfiction, presented in a style not unlike Galileo's famous book with the same title, published in 1632. It is reminiscent of The Little Prince where a most unlikely person enriches the protagonist with some of the great wisdom of the cosmos.

Peter is a clever 16-year old student at the International School in Prague—but not your typical teenager. A kind of philosopher, he enjoys reading works by classical masters such as Socrates, Pythagoras, Copernicus and Newton. His friends see him as a nerd because of his quest for answers to what they believe are unanswerable questions.
Peter enjoys hiking in the forest near his home. It gives him quiet time to think about these "impossible" questions—Why does the universe exist? Who am I, really? Why am I here? What's truly important in this world? What's my purpose? What's consciousness?
During summer holidays, while hiking the forest near his home, Peter meets a charming, mystical, elderly man named Boda. Captivated by his wisdom, he spends his days in dialogue with Boda. He eventually gets the answers to his "impossible" questions. Unbeknownst to Peter, Boda is an Avatar—a divine entity in human form.
Praise for The Dialogue
"The Dialogue touched me very deeply—a conversation between a wise elder and a young seeker. It elegantly approaches the crucial problem of our time—integration of science and spirit. Dr. Cusumano is an ideal vehicle for the transmission of these ideas. The Dialogue will inspire you, as it inspired me, and open your eyes to a new way of seeing the world."
—Gay Hendricks, New York Times bestselling author
"A small but important book, its pages densely packed with the greatest questions we can ask and truly plausible answers or counter-questions we can envisage. A wonderful read about the mysteries of the universe that are not only outside us, but truly within us."
—Ervin Laszlo, founder of the Club of Budapest and a Nobel Peace Prize nominee
"The Dialogue is an excellent guide to insights gleaned from the world's wisdom traditions."
—Deepak Chopra, New York Times bestselling author
"I started to skim Jim Cusumano's book, The Dialogue, but it drew me in so intensely. I devoured the whole thing in one go. Brilliant, informative, entertaining, and a masterclass on the meaning of life."
—Lance Secretan, New York Times bestselling author
paperback | 167 pages | 9781949003390 | March 25, 2020